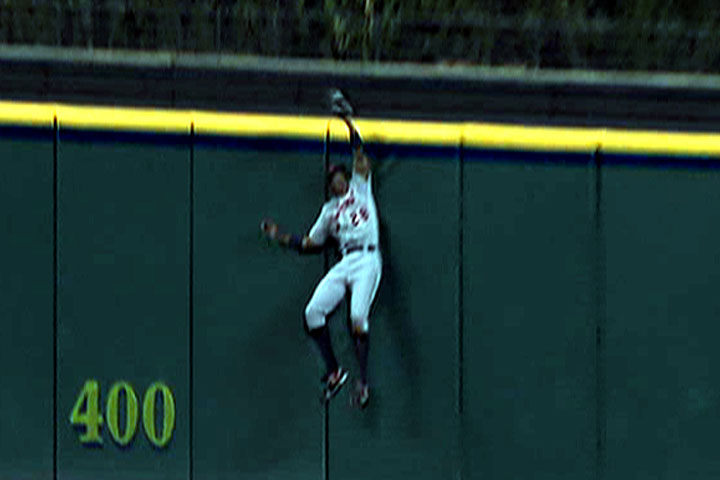 05.08.09: Curtis Granderson robs Grady Sizemore of a homer with an amazing catch at the wall.
SEE VIDEO>

Granderson stuns Tribe, and Verlander
With no room for error, Tigers center fielder robs Sizemore
By Jason Beck / MLB.com
05/08/09 11:50 PM ET
CLEVELAND -- Curtis Granderson grew up dreaming of leaps like this. He was an aspiring basketball player in Chicago, dreaming of highlight dunks like Michael Jordan's.
Now the Tigers center fielder, he beat anything from his court career on Friday with what equaled a game-saving stuff on the last possession.
Granderson, however, had a different way of looking at his leaping catch over the center-field wall at Progressive Field to rob Grady Sizemore and the Indians.
"It's like the alley-oop in basketball," Granderson said. "You have to catch it at the peak to be able to bring it down."
The question of how high Granderson and other Tigers could leap actually came up during batting practice, as outfield coach Andy Van Slyke hit fly balls to the fence.
Granderson watched reliever Joel Zumaya pull off a catch over the fence, which started the discussion.Granderson's catch pretty much ends the debate. His leap not only had the height, but the drama to one-up an American League Gold Glove Award winner.
"That," starting pitcher Justin Verlander said, "was one of the most amazing plays, given the situation. I don't think you'll see a regular-season play any better than that -- anywhere -- given the situation."
The situation was Verlander's game to lose, and it ended up Granderson's game to win. Locked in a duel with reigning AL Cy Young Award winner Cliff Lee, Verlander had a 1-0 lead thanks to an eighth-inning infield single by Clete Thomas. Granderson scored the run.
A leadoff walk in the ninth put the potential winning run at the plate. After a fielder's choice out at second, up came Sizemore, who makes his living with highlight-reel catches in this park. Granderson has the athleticism, but usually not the chances in the vast expanse of Detroit's Comerica Park.
Granderson made a running catch in left-center field in the sixth inning, but it wasn't highlight material. As Sizemore fouled off one high-90s fastball after another off Verlander, it was shaping up to be a clutch situation either way.
Afraid of changing Sizemore's bat speed, Verlander went with his seventh straight fastball,
again at 99 mph
. When Sizemore connected, it took off with the same deceptively easy power.
"I didn't think he hit it all that well," Verlander said, "but it felt like I was throwing really hard. It didn't sound good, didn't really look that good to me. But I looked up and saw Curtis tracking it back, I'm like, 'No way.'"
Granderson had a little better feeling. He's used to playing deep in center field out of past habits.
"As soon as he hit it, I was like, 'OK, it's either going to go out or be way short,'" Granderson said. "That's the way it looked. It was going to be one of the two. I wasn't going to be camped underneath it at the wall."
Fortunately for Granderson, manager Jim Leyland had the outfield playing deep in a no-doubles alignment, allowing him to cut off a liner in the gap before it reached the fence. Without that, Granderson said, he would've had no chance.
With that, it still seemed like a long shot.
"When [Sizemore] first hit it, I thought [Granderson] was going to catch it up against the fence," Leyland said. "And then, when I saw him jump, I thought it was a home run."
So did an exasperated Verlander. Granderson, however, still held out hope.
"I said, 'OK, it's still going. Just give me a chance to jump for it,'" Granderson said.
"And sure enough, I had a shot.
If it's a foot higher or a foot further, I've got no chance of catching it."
Where it was, the timing was perfect. Granderson made a leap in stride that got his glove over the wall without him crashing into it.
If Granderson's hang time didn't seem lengthy, the ensuing suspense did.
"When I saw him jump, I thought it was definitely a home run," Leyland said.
"When he came down, the way he reacted, I thought, 'Oh, my God -- he caught it.'"
Sizemore wasn't available for comment, but his stunned face rounding first base said everything. So did broadcaster Matt Underwood's call: "GONE!!!
... No it's not!"
Granderson could only hear the silence of 27,492 fans.
"If you can quiet them for a second, that's a big thrill," Granderson said. "Just as much as making the crowd go nuts when you hit a walk-off home run."
Granderson has one other homer-robbing catch in his history, a leaping catch in left-center field at Comerica Park two years ago against the Red Sox. Many teammates argued that catch was better in terms of athleticism, since Granderson ran further to the fence. The situation, however, made Friday's catch better.
"When you consider the situation," Verlander said, "it doesn't get any better than this."
Jason Beck is a reporter for MLB.com. This story was not subject to the approval of Major League Baseball or its clubs.